Finally, health foods you can feel working instantly...

Eat Yourself Healthy With The Best of the Best Nature Has to Offer
"They work like magic but almost nobody knows about them. You'll ask yourself, how can something so simple be so powerful... and so secret"
They're called Super Foods and here's just a taste of what they can do for you:
Rejuvenate your body
Eliminate disease
Sharpen your mind
Heighten your senses
Brighten your mood
Increase sexual potency
Give you a fresh supply of strength and stamina
Fellow health enthusiast,
There's not a single person on this planet who can't benefit from what I'm about to share with you. It doesn't matter if you're old or young, a man or women, elite athlete or barley able to get out of bed. You'll find something here that can instantly make your life better.
The More You Eat The Better You Feel!
You've heard it a hundred times "don't eat this - stop eating that". Look, you already know what NOT to eat, I'm hear to tell you what you should be eating more of. Super Foods.
The best part is you can simply stack these Super Foods right on top your current diet and begin reaping the benefits right away. And the more you eat the better you feel!
Jet Fuel For Your Body and Mind
Your body is a machine, and food is the fuel that powers it. Super Foods are mother natures version of Ultra-Premium Jet Fuel for your body. When you start eating these foods (which are delicious) you'll feel alive and alert.
Don't Settle For Wimpy Health Foods
Take a trip to any health food store and ask yourself how healthy do the people shopping there look. Now you would think the folks shopping at a health food store would be strong and vibrant, and in some cases they are, but often you'll find frail, famished people whose bodies are so depleted they can barely stand up straight.
Young Men and Women with thinning hair. Their eyes fogged over, sunk in, with dark puffy bags under them. Despite eating what most people consider health food they look like walking corpses.
Here's the truth...
A lot of what gets labeled as health food is really "neutral" food. It's empty. It contains hardly any vitamins, minerals, or antioxidants. Your body needs these vital nutrients, and when it doesn't get them it breaks down.
That's why misguided health food consumers who've been handed bad advice over the years can look so much older then they really are. Rapid aging is a result of not giving your body the vital nutrients it needs to keep your cells healthy and flush free radicals from your system.
"Free radicals (the "oxidants" we fight with anti-oxidants) have been implicated in as many as 80 age-related diseases, including heart disease, arthritis, Alzheimer's, Parkinson's disease, and cancer. Spent oxygen molecules and the like which become "free radicals" are unavoidable, basic byproducts of the metabolic process; however, they can cause an inordinate amount of damage, and the damage seems to be both cumulative (over our lifetimes) and extensive, since other diet and lifestyle factors add to it."

~ Nicholas V. Perricone, M.D
Why Isn't Everyone Eating Super Foods?
Most people don't know about them. They think all health food is created equal. It's not. Super Foods are pound for pound the most nutrient dense substances on the planet, and here's the proof straight from the pages of the Super Foods book...
Page 7. This anti-aging secret comes from the Amazon rainforest contains more antioxidants then blueberries, or grapes. It also gives you the same heart healthy benefits of red wine without the side effects of alcohol

Page 9. Used in Chinese Medicine as far back as 1000 ad. this delicious Super Food helps strengthen your immune system, treat diabetes, and lower high blood pressure

Page 11. In ancient times this was called the "fertility fruit" - today it's used to treat sore throats, rheumatism, and inflammation

Page 12. If you're not familiar with carotenoids you soon will be because carotenoids have shown incredible promise in fighting many types of cancer. This Super Food has more then 20 compounds in the carotenoid family

Page 14. This tiny red fruit from the Himalayans grows in a harsh environment. It earned its Super Food status for its anti aging abilities. The secret is a special compound scientists call "master molecules" that have the ability to control elements of your body and immune system

Page 15. Eating this is thought to make you stronger, but the real benefit is how it helps your eyes

Page 18. Renowned for its easy preparation and great taste this Super Food is loaded with calcium, and no, it's not a meat or dairy product

Page 21. This cold water fish contains a special oil that can actually lower cholesterol, prevent obesity, and improve insulin response in diabetics. It's also been shown to lower the risk of Alzheimer's

Page 24. Made from one of the oldest foods known to man, this Super Food can be added to almost any meal

Page 27. Eating this Super Food helps your heart just like aspirin without the side effects, but that's not all - it also protects your DNA which is thought to play a strong role in the prevention of cancer and other diseases
Let's take a short "breather." We'll get back to more of what this remarkable book will teach you in just a moment. But first, let's talk about why these Super Foods are so important.
Super Foods pack the kind of nutritional punch you can't find in normal foods. Each of the 31 Super Foods you'll learn about can not only improve your overall health, but can be used to target specific health problems. Keep reading, and see if there's anything here that could help you...
Page 29. By the year 780 ad. the preparation of this Super Food was considered a fine art. It's been used to treat everything form headaches, insomnia, and digestive problems. Most recently it's been looked at to help cure cancer

Page 35. This popular spice will stimulate your taste buds and prevent a number of digestive problems

Page 37. Called the "wonder drug" in the world of natural medicine, and considered to be the first Super Food it's been used to treat everything from the common cold to the Bubonic Plague - And It goes great with almost any meal

Page 41. Travelers who suffer from motion sickness swear by this. It's also used to improve circulation, and treat morning sickness

Page 44. Protect your DNA with this herb. The active compounds found in this Super Food protect you from disease at the cellular level. Lab studies reveal it also reduces the growth of bacteria like E.coli

Page 47. During the middle ages this Super Food was a symbol of courage. You can use it to treat chest and respiratory problems

Page 48. With 42 times more antioxidant activity then apples, this spice is superior at treating infections and fighting off disease.

Page 50. A recent study published in the Journal of Diabetes Care found that 1/2 a teaspoon of this significantly lowered blood sugar levels in diabetics

Page 53. This Super Food makes a tasty cup of tea. It also helps asthma and allergies

Page 55. Free up your breathing by breaking up phlegm and mucus with this natural ingredient
Are you starting to see the benefits of adding some, or all of these Super Foods to your diet? But, you know what? We are not finished yet... not by a long shot. Here's some more of natures super stars revealed in this amazing book...
Page 57. Keen eyesight will be yours with this sweet berry. It was even used by World War 2 fighter pilots for better night vision. Those who regularly indulge in this berry have also noticed a reduction in varicose veins

Page 59. This plant is a member of the sunflower family, and it's used to remove toxins from the liver. It's so powerful that it's even used as a antidote for poisonous mushrooms

Page 61. Tired of getting laid up with a cold every year? Take this to boost your immune system

Page 63. You'll get so much more done with Super Food - it can boost your energy, sharpen your memory, and reduce stress. Traditional Chinese medicine even uses this to increase fertility in both men and women

Page 65. Brighten your mood and wash away anxiety. This wild flowers ability to combat depression have been backed up by clinical studies, and is even prescribed to people in Europe who suffer with depression - I'll tell you all about it when you order the Super Foods book

Page 68. We live in a toxic environment. Now more than ever it's important to have a strong immune system. This Super Food was found to increase T-cell counts which play a huge role in fighting off disease. This Super Food is currently being looked at to help people living with AIDS

Page 70. For 1000's of years people have been using this to improve blood flow, increase sexual energy, improve longevity, boost memory, and get rid of depression - It's important that you know what to look for when shopping for this Super Food because some of what's being sold could be toxic. I'll show you what to look out for

Page 72. This Super Food is a rich source of omega-3, the healthy oil that protects your heart. It's also a natural cure for chronic dry eye, which affects over 10 million Americans each year

Page 74. The benefits of this Super Food seem almost to good to be true. It's one of the most nutrient dense substances on earth. It contains protein, vitamins, minerals, and amino acids. A teaspoon of this is like consuming 2 pounds of fruits and vegetables

Page 77. A cream made from this tree bark can relieve chronic back pain and arthritis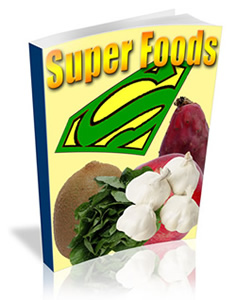 When you order the Super Foods book you'll get the full details on each one of these Super Foods, but that's just the beginning because you're also going to receive 4 life enhancing guides.
These are not your typical throw away guides meant to make the book seem more valuable. Some people have even said the information in these guides is worth more then the Super Foods book!
Each one of these no fluff guides can help you overcome the most pressing health problems we face in this "fast food" society we live in.
Re-energize Every Cell In Your Body With The Alkaline Diet
For years the Nation's leading success coach Anthony Robbins has been teaching his millionaire clients about this amazing system of eating called the Alkaline Diet - but you won't have to attend a $10,000 seminar to learn about this powerful diet because you'll get the inside scoop when you pick up your copy of the Super Foods book.
Over 90% of the average persons diet is acid forming foods that can eat away at your internal organs, and turn your body into a breeding ground for bacteria and disease - Following the Alkaline Diet will restore your bodies internal balance


Find out which foods will neutralize your bodies acid, and which foods you must avoid if you want to keep your body healthy - You'll be shocked when you find out that some of your favorite foods are turning your body acidic, and destroying your health


Learn about the real connection between smoking and eating, and why most people have food cravings when the try to quit smoking


Almost every health problem you will ever face can be helped by making your body more Alkaline - Acid is the agent that kick starts many of the most common health problems. Germs and bacteria thrive in a acidic environment, keeping your body alkaline can naturally fight off sickness and infections


You don't have to be a vegetarian, or give up all your favorite foods to follow the Alkaline diet - I'll tell you about 3 of natures most powerful alkaline foods that can neutralize your bodies acid with just a teaspoon sized serving


I'll reveal why having too much acid in your body, NOT overeating could be to blame for weight gain - If you been struggling to lose weight this will be the most important chapter you read in the entire book


Stopping the acid overload in your body does more then just send your energy levels surging and disease proof your body, it also rejuvenates your appearance - If you want to smooth away wrinkles, brighten your complexion, or even get rid of acne using the Alkaline Diet can help
The Alkaline Diet guide is worth $25, but you're going to get it free with the Super Foods book
Eat These Special Foods and Lose Weight, and The More You Eat The More You Lose
Learn the secret behind negative calorie foods - These special foods are so low in calories, and so filling that by eating them your body will burn more calories then the foods contain


The 3 types of "Foods That Make You Lose", and the unique weight loss benefits of each one


Why you should NOT replace 100% of your diet with these special foods - If you were to eat nothing but the foods I'm going to reveal in this guide you would lose weight so rapidly it could be unhealthy. It's best to only lose a couple pounds a week by using just a few of these "foods that make you lose"

The Foods That Make You Lose guide is worth $17, but you're going to get it free with the Super Foods book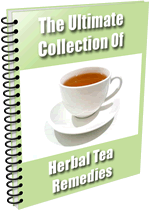 Aphrodite Blend Tea (For a romantic evening with your lover) A sensuous, aromatic blend with just the right hint of zest for your palate, and sure to kindle flames! A delicate, but dashing combination makes this one of your most enjoyable cups of tea.
Blues Tea
This blend will help uplift your spirits and wash away depression

Bronchial Congestion Tea
Use this to help open up your breathing passages

Coughing Fits Tea
Use to soothe irritations of the upper respiratory tract that cause coughing. This tea has proved helpful with bronchitis and whooping coughs.

Memory Zest Blend
A mentally refreshing beverage, to help give you feelings of clarity
and precision.
Moon Ease Tea (To lessen the effects of a woman's period)

No-Sweat" Tea
Reduces perspiration within 2 hours of use with its effects lasting up to
several days:
Burn Fat, Stop Hunger, and Crank Up Your Metabolism With The Ultimate Weight Loss Drink
This Ultimate Weight Loss Drink recipe combines the most powerful natural fat burners into one delicious drink


The base for the Ultimate Weight Loss Drink has been making headlines lately as a potential cure for cancer, but it's also a highly effective fat burner


The secret spice that's used in Ultimate Weight Loss Drink that will kick up your metabolism


You'll learn about a special cactus extract grown in Africa that can control your hunger - Even the media is raving about how effective this is at making you NOT want to eat
The Ultimate Weight Loss Drink recipe is worth $7, but you're going to get it free with the Super Foods book **Only available for a limited time**


Okay let's go over what you're going to get when you order the Super Foods Book:
You get the complete Super Foods book
You get the Alkaline Diet Guide - worth $25
You get the Foods That Make You Lose guide - worth $17
You get the Nutrition and You Guide - worth $17
And if you order today you're going to The Ultimate Weight Loss Drink recipe - worth $7
The bonuses alone are worth $66, and that's not even counting the free updates you're going to get.
Don't worry, you're not going to pay $66, or even 1/2 that for the Super Foods book because when you order today you'll get everything you've read about for just $29 - that's less then most people pay for a tank of gas.
I can only guarantee this price until the next update (which you'll get for free when you order today).
And with the Super Foods Book you'll never have to worry about whether or not this is just another fly-by-night internet scheme because I'm going to let you have the Super Foods Book and all the bonuses for 8 weeks to prove to yourself that they're everything I say they are, and more.
When you click the button below and order your Super Foods Book you'll get instant online access to all the books and guides you've read about on this page. If for any reason at all you're not thrilled all you have to do is send a single email (no explanation required), and you'll get a prompt and courteous refund - No 20 minute phone calls - No run around - Just a single email (no explanation needed) and every penny will be refunded.
To anyone thinking about taking advantage of this offer...
Because you get instant access to the Super Foods books and all the guides I know a very small number of people will grab all the books then turn around and get a immediate refund whether they're happy with the purchase or not. Of course I will grant them a refund because I never dispute refund requests - if you ask for a refund you get it, but if you're planning to take advantage of my generous refund policy I would kindly ask you to please leave this site and not order my book.
But if you're sincere about using Super Foods, and are ready to explore all the exciting new things your going to learn about in the Super Foods book I want you to know that you are protected under my no questions asked money back guarantee.

Let me tell you a story... I used to drink coffee all day to stay awake, and take sleeping pills at night to fall asleep. I would get sick at least 3 times a year. I was always tired, and didn't have any drive or passion for life. That changed as soon as I started using Super Foods and the Alkaline diet.
I no longer need stimulants to stay awake because Super Foods flood my body with a constant supply of natural energy, and I fall asleep as soon as I hit the pillow without taking pills.
I'm the envy of all my friends when they find out I haven't been sick in over 5 years all because of what you'll learn in the Super Foods Library.
And when a specific health problem does arise, I just turn to the Super Foods book for the natural remedy... By the way did you know that a lot of prescription drugs are based on natural remedies like those found in the Super Foods book? It's true, but because you can't patent natural ingredients the big drug companies have to re-create something that nature has already given us in their laboratories so they can patent it and make billions of dollars.
Why wait for the drug companies to make a synthetic version, and charge you an arm and a leg for something you can get right now by ordering the Super Foods book?

I Guarantee These Super Foods Will Make a Difference
By now you've seen all that the Super Foods book, and the bonus guides can do for you. But I want to make ordering the Super Foods book the easiest decision you'll make all week by giving you 8 full weeks to try Super Foods and feel the difference they make for yourself.
What I show you must make a significant improvement in your life. Otherwise, just let me know and I'll refund every penny you paid and insist that you keep everything I've sent you.
Just click the "Click Here For Instant Download " button below and you'll be downloading the SUPER FOODS BOOK and your FREE gifts in just seconds. Then, take 8 weeks to decide for yourself.

PS. The introductory price of $29 is the absolute lowest I will be offering the Super Foods book for. If you return to this website tomorrow the price might have gone up. By ordering now you're guaranteed this low pricing
PPS. The Super Foods book and the guides you'll receive with it are based on proven, but little known health secrets that give you the power to heal and prevent sickness.
This is not a diet...it's a lifestyle enhancement.
You can pick and choose what you want to add to your current lifestyle without giving up the foods you love. It's that easy.
---